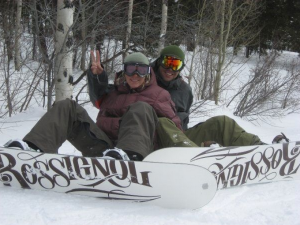 We've spent the last decade transitioning from ski bums to entrepreneurs to parents and professionals.  We still have as much passion for The Spanky product as we did in the beginning and are even more motivated to innovate and grow than ever!  We are so excited to continue bringing new ski resorts into The Spanky family each season and launch the Spanky in new markets… Also, with the explosion of screens and mobile devices in modern culture, The Spanky is relevant to everyone – not only to the ski community.  We provide the best lens cloth trail map and are proud of that.
The Spanky has grown steadily each year, mostly due to our customers spreading the word and The Spanky love. We are finally ready to engage in the world of social media to let more people know about The Spanky.  We want to give our customers a better way to interact with us; to hear from them and to share what new things we are up to!
We are super grateful to each and every person who has supported us along this incredible journey.  If you have a Spanky, or have told your friends about it, you are part of what has made our dreams come true… Thank you!!  We absolutely love what we do and strive every day to make sure we are providing Spanky lovers with the highest quality and most innovative lens cloths available.
We were the first to offer a lens cloth trail map, and we will continue to improve and expand our product, making sure The Spanky is the best option when cleaning lenses and screens. Period.
Let's Spanky the world together!
~Savannah & Shawn